2nd Annual Koh Chang Beach Cricket Tournament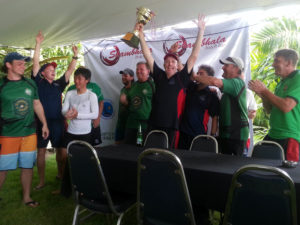 We've just had a fantastic weekend of cricket at the 2nd annual Koh Chang Beach Cricket Tournament down at Shambhala Beach Bar. It's impossible to have a better time than that. Big thanks are due to Roland and Mirriam the hosts and Steve of Serenity Resort Koh Chang and Tony of 15 Palms for organising it all. Also to all of the other helpers and sponsors including Taste of India Koh Chang, Blue Lagoon Bar and The Koh Chang Guide.
10 teams took part including Lanna Cricket Club, The British Club Bangkok, Parrot's, Southerner's, Pattaya Cricket Club and, of course, Koh Chang Cricket Club. The special guest was again ex-England paceman Alan Mullally who travelled all the way from Australia to attend.
There were a large number of spectators who took advantage of some really beautiful weather to relax by the pool bar and the beach and watch the event unfold.
A tense final between Parrot's and The British Club A involved excitement, tension, controversy and utlimately great sportsmanship that resulted in a draw. So there were two winners, but there weren't really – we all won.